like a rollercoaster ... endless climbs and downhill ... more of an all-mountain than an XC course ...
Location:
Amphur Pluakdaeng, Rayong
Trail Length:
11kms of punishing singletrack
Jump-off Point:
It is possible to park in front of the town district hall, or beside the police hall. The parking lots are shady and relatively safe (as there are police nearby). Or you could park in front of the
Doo-dee noodle shop
. Though you may have to buy a dish or two when you get back, as courtesy for the owner 'looking' after your 4-wheeled transpo.
The Trail:
Punishing. Technical. Gruelling. Not to mince any words in describing this trail, but just to tell frankly that this is no beginner's sunday park ride. Newbies - Stay Away! Or, at least, know in your heart beforehand that you are not going to conquer this trail today.
It is mandatory to have a decent set of technical skills AND a high enough fitness level in order to successfully tackle this trail. Otherwise, you will just be pushing your bike up and down the hills. There are hardly any flats.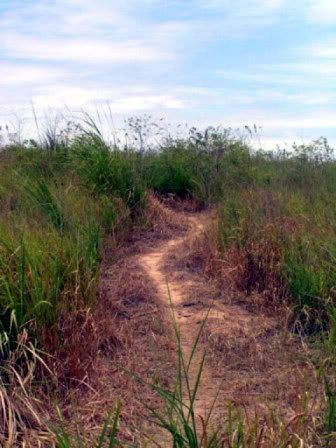 The 2nd leg of the MTB Eastern Championship is just a couple of weeks history, so the trail is still clearly marked. The race guides and tapes are still in place. Since some sections of the race trail blazed through pineapple and cassava fields, i expect that most of the trail will be wiped out come harvest season at the end of the year.
However, no big loss as these sections are just to get you warmed up anyway. The meaty technical sections are always there the whole-year round.
The trail alternates between steep narrow climbs and harrowing descents in closely spaced saplings. My handlebar length is still the original length and was never cut, it felt like huge clunky carabao horns navigating through the tight switchbacks. I had difficulty riding through these sections as the
trees
are really spaced tightly.
At one point, my left bar end hooked in a small tree and so OTB I went, resulting in ugly bruises at my whole right side.
There are a number of good opportunities to catch air as you will encounter a number of 2-3 foot drops in the trail. If you get a read on where these are, then you could do some spectacular jumps.
In fact there are 2 (not one!) places where there are four consecutive meter-high drops. One is what is popularly known as "Haa Chan", literally meaning five levels as it resembles a huge staircase with 5 steps.
The second set of drops, I dunno what its called but I would definitely call it a twisting 5-step staircase, as not only does it have five levels but it twists 90degrees to the left after the second drop. Go too fast on the second drop and straight you go to a 3-meter vertical.
Bike Setup:
This is a great trail for FS and all-mountain setups. It gives you a great opportunity to flex those frame suspensions.
Bring chunky off-road tires. The trail, which is mostly singletrack, is mixed loose sand and soft earth. Very smooth and very tricky when you are climbing.
And watch your bar ends! It can easily get tangled in vines and small branches. I kid you not when I say that this is a narrow trail.
Fitness Level:
Bring your A level of fitness, in addition to all the bags of tricks you learned.
Technicality:
Highly technical. steep narrow climbs. steep narrow descents. lots of 2-3 foot drops. I give this trail 5 chilis, with lots of jalapeno (the red ones).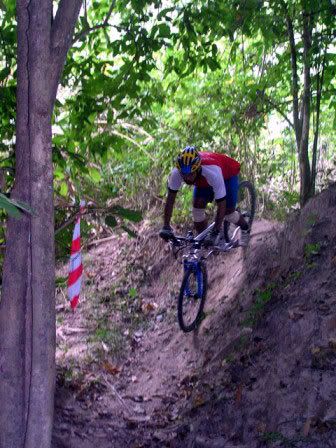 Trip value:
Amphur Pluakdaeng
is a small sleepy town. Not much to offer in terms of trip value. But then again, if you wanted an easy leisurely sunday spin - then you would not be here anyway. At least, there is this noodle shop which serves delicious noodles.
How to Get There:
According to this map, if you are coming from Bangkok, take the
Motorway Rd7
to Chonburi. After the last toll station (Chonburi station), turn left at the exit going to Ban Bueng, which is
Rd344
. Go on for 10 kilometers, until you reach an intersection.
Make a left on
Rd3138
, go another 20km to meet
Rd331
. Make a right and look for Rd 3138 again on the left side. I know it sounds crazy because you were just on another Rd3138. Go for another 14kms.
Once you see
Rd3245,
turn left. Proceed along
Rd3245
for another 6km and you will be at Pluakdaeng town center.
When you get to the town center -- check out the detail below.
Kudos to MTB Pluakdaeng 2000. All the pictures courtesy of them. Guys! you sure make it look easy.
[end]