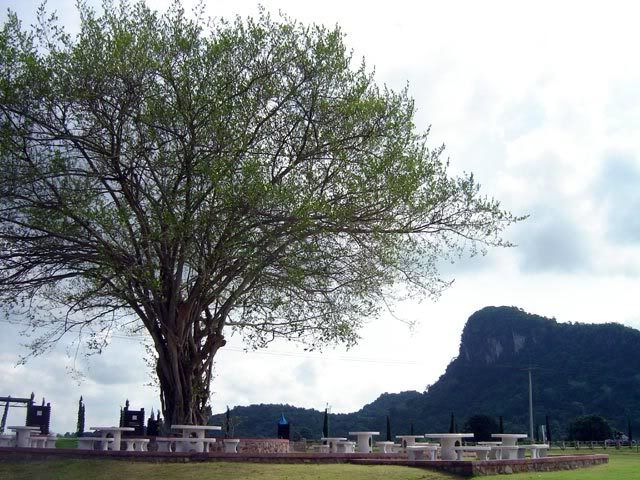 Location:
Silverlake Vineyards, Najomtien Sattahip
Roughly 18 kilometers from South Pattaya Rd.
Length:
One loop: 6 kilometers, 50/50 mix sandy flats and loose XC
'B' Category -- 3 rounds
'A' Category -- 4 rounds
Although this is still being contested. Check again on race day, the organisers might realize they still have a heart and change their minds last minute. pls, pls.
How to get there
:
From Pattaya:
From
South Pattaya
, mark your odometers and head further south for 12 km. You will reach
Nang Ab Tao - Wad Yan Rd
. Turn left. About a 3 kilometers, you will start seeing blue signs directing you to
Silverlake Vineyards
. Just follow these signposts and you will get there in no time.
From Motorway
Or, coming from
Motorway Rd7
, just motor on until you reach
Rd36
going to Rayong. Turn left on Rd 36. After a few minutes, you will see a 4-way junction. Go down to
Rd331 heading Sattahip
. On
Km161
, turn right and then you will start seeing the blue signs directing you to Silverlake Vineyards.
The Pre-ride:
Race 3 of the Thailand MTB Eastern Championship will be three weeks from now. The trail is already marked so we made an early pre-ride.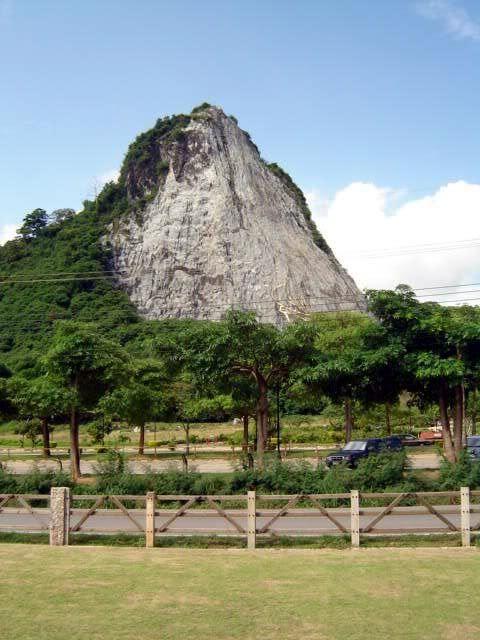 The race course is inside the Silverlake Vineyards, somewhere 12 kilometers south of Pattaya. The vinyards are situated right beside Khao Chee Chan, which has a huge, huge Buddha figure carved onto a hill face.
Course is a 50/50 mix of wide dirtroad and very fast singletracks.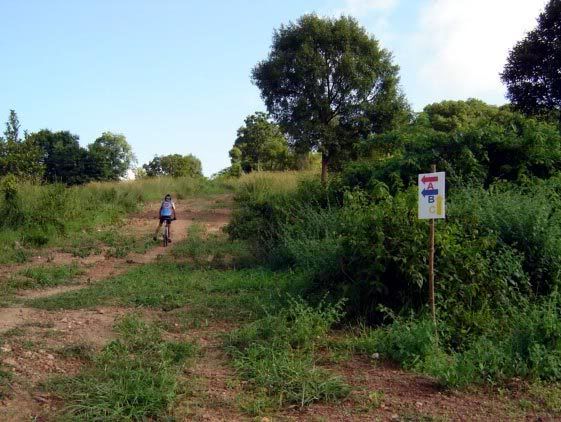 The most challenging part of the race is a gruelling long hill climb. Roughly 300 meters long on a steep rocky loose surface, this is likely the defining point which separates who will struggle and who will breeze through the race. Wetsprocket decided to hammer it out, he got past halfway before turning the white flag. I, on the other hand, decided early that I could not make it, and carried my bike uphill.
Downhill is the next up on the menu, again on sandy rocky road. Recent rains have formed some rain ruts so one has to ride loose but careful.
Then another short climb on a grassy singletrack. This is the second and last significant climb. And its all downhill from here.
There is a small steep section which is easy but tricky. At the bottom, it curves out as soon as you reach your fastest speed. Watch it as there is a small tree at the bottom. Really, I should not be telling you this because you would then be watching out for it. You know the golden rule of riding, 'if you keep starin at it then you will definitely hit it'. The organisers were considerate enough to carve some
steps
going down if you want to go the hiking way.
Uh-uh. One other small, small thing. This steep section is surrounded by trees and quite dark. Just before you reach this point though, you are showered in very very bright sunlight. When you hit this hole, it takes you awhile to get your eyes accustomed to the change. A few seconds sure, but being a short steep section, you would need to react quickly.
Its all
fast downhill
after this section. Very, very fast. Without doing anything, my bike computer is reading out 30km per hour just letting Mother Earth do all the work with her all-encompassing gravity. You will come out of it directly into the vinyards.
Its just then a series of turns within the vinyards. Nothing fancy, all flats. You will eventually reach the start/stop point from hereon.
The course is just a bit under 6 kilometers. Short, sweet and very fast.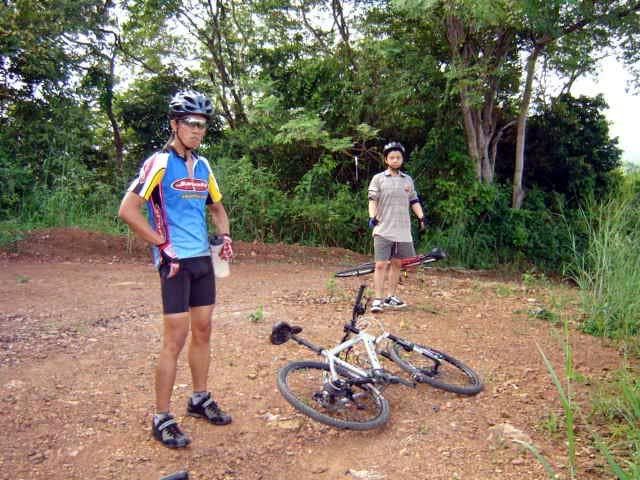 Setup
On the bike setup, choice of tires figure to be important strategic part of the race.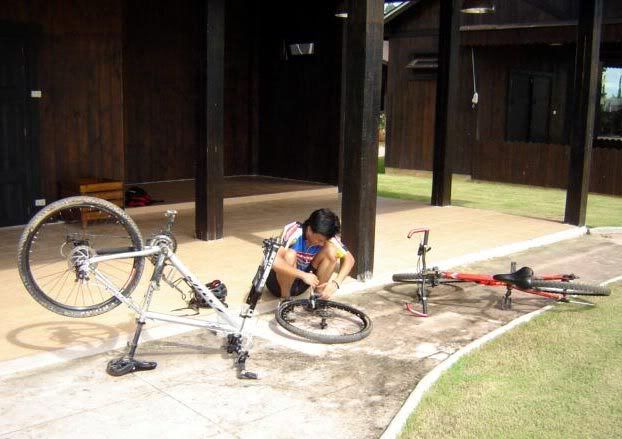 Find something that can hurdle the rocky loose surface on the long hillclimb, but can be quick on the flat sections, which is packed sandy roads.
I used a Specialized FastTrack Pro on the pre-ride and was happy with it. My buddy WetSprocket used a GEAX Mezcal 1.90. It gave up on him during the climb, spinning out a couple of times on the uphill. On the other hand, he was pretty quick on the flats. So find the best compromise tires you can. Local bike shop might have a few suggestions.
Some more details on this ThaiMTB link:
[Link]