The second leg of the MTB Eastern Championship 2006 will be held this coming October 7 at Pluakdaeng, Rayong.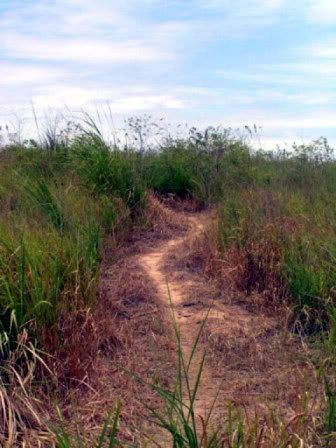 The next leg will be on Nov 4 at Silverlake Grape Farm at Najomtien Sattahip Chonburi and the fourth and final leg will be on Dec 9 at the Pattaya Bali High Sea Wharf.
To get to the second leg: here is the
link
to the get to the place (if you can read Thai).
According to this map, if you are coming from Bangkok, take the
Motorway Rd7
to Chonburi. After the last toll station (Chonburi station), turn left at the exit going to Ban Bueng, which is
Rd344
. Go on for 10 kilometers, until you reach an intersection.
Make a left on
Rd3138
, go another 20km to meet
Rd331
. Make a right and look for Rd 3138 again on the left side. I know it sounds crazy because you were just on another Rd3138. Go for another 14kms.
Once you see
Rd3245,
turn left. Proceed along
Rd3245
for another 6km and you will be at Pluakdaeng town center. The map claims that you have to proceed to the
Town Hall
(left at the only traffic light) and the registration point should be there.
I went there earlier today (today is Wednesday) to check out the area. All I saw were banners on a Buffalo Race this week. Well, I hope there is really a MTB race this saturday. I would look funny with my cycling gears on, riding a cud-chewing buffalo this weekend.
The course is roughly 12km long with lots of climbs and downhill sections. The A category will go 3 rounds while the B category will have to go 2 rounds.
Registration starts at 9am. Unconfirmed reports say you have to shell out 300THB to register. Hopefully you get something to take home with that. A water bottle, maybe?
If what i have heard about this course is true, then this is an ongoing series of ups and downs. Many describe it as fun with many switchbacks on the downhills. It is fun, of course, if you have the stamina and strength to climb on the numerous hills.
Pictures of the different sections of the course:
1
,
2
,
3
,
4
,
5
,
6
,
7
,
8
,
9
,
10
,
11
,
12
,
13
,
14
,
15
,
16
,
17
,
18
,
19
,
20
.
From the pictures, you can see that I was not kidding when I described it as a neverending up and down. Overtaking can be done on the flat sections and there are a couple of them at the start and near the end of the course. So bring on that explosive sprinting ability to be used on these sections. Other than that, its just keeping with the main pack on most section of the course.
All pictures courtesy of Pluakdaeng Club 2000. Here is their link.
[Link]