Location:
Angkhang Nature Resort
Doi Angkhang, Fang, Chiangmai
Trail Length:
ranging from 25km to 80km, mostly asphalt with some dirt roads
Jump-off point:
Starting point is at the
Angkhang Nature Resort
. This resort is part of the Amari hotel chains - so you will get great rooms, great facilities at 4-star prices. Expect to shell out 100$ US per night. There are other places nearby at backpacker prices (25-40$ per night) though the facilities are quite basic.
The Trip
At the resort, you could get a map outlining bike routes. There are a number ranging from fun rides to the serious 75km loop which goes down Angkhang mountain, go thru Amphur Fang and then up again on the other side of the mountain via Tambol Mae Ngon.
We
arrived
at 3 in the afternoon. It was
20 degrees
Celsius. Wow. For someone spending time in Bangkok and Pattaya, I do not get that often. I was shivering and my teech were ch-ch-chattering by the time I got out of the car and into the reception desk.
There are mountain bikes at the resort for rent or you could bring your own.
The rentals are not so hot though. Just regular ones and not well maintained. They probably asked the head chef to bring back a couple of mountain bikes when he was out doing his daily runs to the market. The bikes are really, really low end. Tires are worn out. I made a quick look at the V-brake and saw that the brake shoe was still there. I guess that should be good enough. Do not even think of lubrication or adjustments, somehow just be glad that all the parts are there when you get a rented one. I wish I brought my own bike.
Still, the minute you go out of the resort and head into the
mountains
-- you do not even really care that the bike is all rusty and rickety, or that the chains skip a beat, or the gears continually get stuck. You forget all that because the view is so breathtaking, the atmosphere is just awesome! Heck, I would even have carried my bike just to be here.
The ride is a 70-30 mix of
asphalt roads
and
dirt roads
. The dirt roads are packed and solid so it is pretty easy going. It is pretty hilly. The road curves and follows the terrain ever so gently, so in a minute it could be a short uphill and then a sloping downhill after it.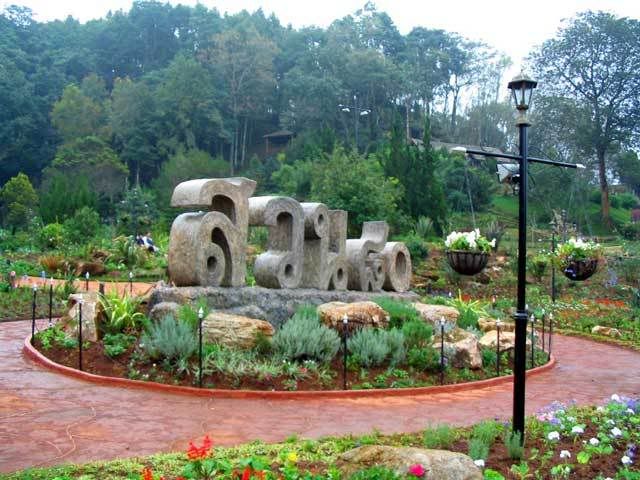 I left my room at 630am in the morning. It was so cold, I could see mist forming from my breath. The air is crisp, fresh but very thin. For one not used to it, I felt out of breath and was breathing heavily in just a few minutes of pedalling. Maybe in a few days of being here, my body could get adjusted to the thin mountain air.
Bring some sort of eye protection. I was thankful I brought along my goggles. There are a lot of insects flying about, so you need some protection to shield your eyes from small insects.
Follow the asphalt road leading away from the resort. You will pass by a bonsai farm and a vegetable plantation garden sponsored by the King's Royal Project. Scenes of serenity abound - farmer watering the plants, hill tribe people strutting about, green trees swaying in the wind and oh! so
pretty gardens
line the road.
Bring your camera. Take pictures. Take lots of pictures.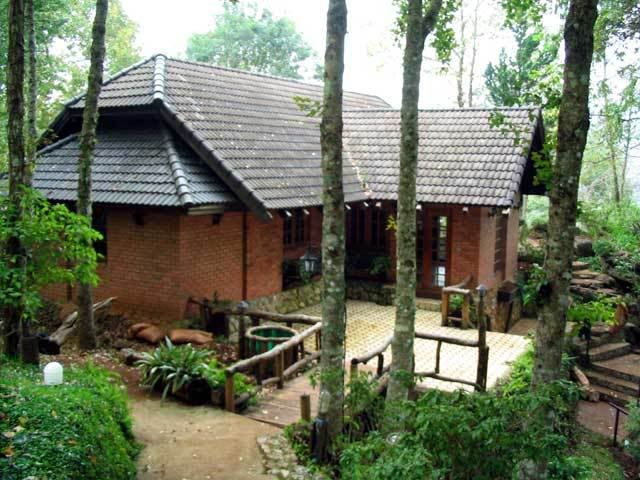 After a couple of kilometers, the asphalt road gives way to a dirt road and the road is now progressively sloped up. You will eventually come across a parking lot, heading into a medium sized
teak house
. I chatted with the caretakers and they say the Royal Family stops by from time to time in this place when they are in Doi Angkhang.
Again, the view from this place is
awesome
.
After a few minutes break, I decided to ride on up the road. I met someone in a motorbike and asked where the road was headed. To another town 11km up ahead was the answer. Seems reasonable, but my lungs felt they were about to burst. I was getting light-headed already so I decided today was an off-day and headed back. I blame the thin air today.
If I was game, then that would have been 25km back and forth on a decent dirt road. Oh well, maybe next time.
On my way back, I stopped at a
small market
where hilltribes people were selling their wares. I wanted to buy a trinket or two, but on hearing the price, I decided to buy everyone I know two or three. It was so cheap! and the old lady was so happy I bought so much it felt really good.
I got back to the resort just in time for breakfast. Hmm-mm ... bacon, scrambled eggs and a hot coffee after a morning workout. Perfect.
Trip Value
After Doi Angkhang, me and my friends drove up to the famed
Golden Triangle
, the
point
where Laos, Burma and
Thailand
met each other. This place is infamous, as this was where the opium smuggling and drug trade of a few years back were quite rampant. Now, its just a tourist spot filled with shops and restaurants, overlooking a
wide-brown river
.
I guess the trip is more for bragging rights to friends on being able to go to the Golden Triangle. So we each took our pictures to earn our bragging rights, had a nice lunch beside the river and headed on to Chiangrai, where we stayed the night.
The trip from Doi Angkhang to the Golden Triangle took a little over an hour and from GT to Chiangrai took a couple of hours.
How to get there
See this
map
from Amari.