Location
: Bang Phra, Sriracha, Chonburi
Trip Distance
: 18kms (2kms XC+16kms tarmac)
Start/Finish
: Bang Phra Reservoir Parking Lot
**I found this track by chance on my way back home from my
trip last Sunday
. This can actually be combined with the first loop at WatKhaoPu for a nice 38km overall weekend fix!
End of the Road
. After having my weekend dose of XC fix thanks to WatKhaoPu, I decided to do some exploring on my way back home. Instead of going straight to the BangPhra market intersection and to Sukhumvit (Route3), I turned right after the railroad crossing at BangPhra. I know this road because I used to go here by car but never got any chance or reason to go past the BangPhra railroad station.
To my surprise, the tarmac ends behind the station and it was all mud, grass, and puddles
onwards!
I saw some tire marks, probably motorcycle, so this road should lead to somewhere my bike can handle, right?
It was all straight, rough, and muddy road with some deep puddles but nothing that my bike can't handle or go around. There are farmlands to my left, between the tracks and Route3. The railroad track is elevated about 10feet to my right.
At the end of this road is a small opening
upwards to the railroad track
. I decided to dismount and check the tracks first for oncoming train and went back to push my to the gravel and iron.
PAY ATTENTION
around here for trains, especially on
railroad crossings
since there isn't the usual road block with lights and bells for warnings on oncoming
locomotives!
I went right to cross the first intersection, followed the dirt road down and turn left to cross the railroad intersection again about 500 meters from where I emerged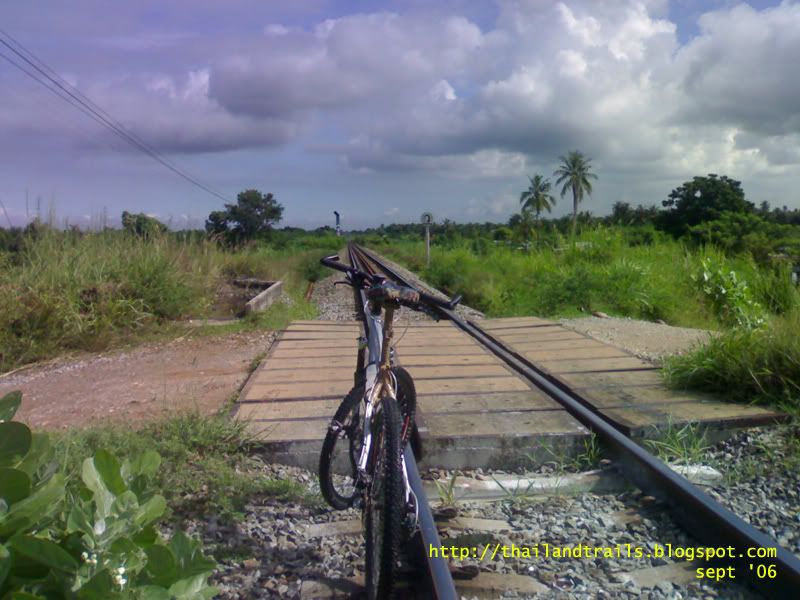 from the XC road.
Turning right after the second intersection led to an easy two-way tarmac with short
coconut trees
lined on the left side of the road.
There is an fork less than a kilometer from the coconut trees. I was told by a kind local folk that straigh ahead leads to NongMon bypass and left leads to Crystal Bay golf course. To the left of the fork, by the way, is a small gate to the Mountain Shadow golf course.
Crystal Clear
. I was headed for Route3 (Sukhumvit) and wanted more dirt and mud on my bike so I turned left. A few meters ahead is another dirt road to the right which offered an alternative, parallel, and dirty route to NongMon bypass.
Then I noticed that the guard at the rear gate of Crystal Bay was looking at me. He shouted,"Where are you going?" I said Sukhumvit. He said, you can go right through
here
. "But that leads to the golf course", I said. "Yep, but it's ok for you to ride through. Just follow
pathway along the left wall
. That should lead you to Sukhumvit."
"You sure the
golfers
won't mind?"
"Yep."
I was dirty. My bike was dirty. I'm not yet exhausted and I've never been inside this golf course before. I was running out of reasons NOT to go in so I thanked the guy, back on my saddle, and went forward just like the man said.
He was right. The golfers
didn't mind me at all
. They just went on with their business over the green, putting the golf (finally) into the hole. Well, some of them and the caddies gave the occasional glance since I looked SO out of place in this VERY green and VERY clean
playground
.
It was so tempting to go fast in this place. Past the
club house
,
the golf carts
, and
the tri-condos
, I was out in
Route3
, left going back to BangPhra and right to Bangsaen beach.