a family resort ... rolling asphalt roads BUT with a 'hidden' gnarly singletrack ...
Location:
Suan Wang Gaew, Klaeng, Rayong
Trail Length:
criscrossing smooth and forgotten asphalt roads on a hilly seaside setting -- plus -- a not so noticeable 2km singletrack up a small hill.
Jump-off Point:
Anywhere within the Suan Wang Gaew resort is a good jump-off point. If you are staying in a nearby resort though, you need to pay a relatively small amount to get in. I could not remember if it is 20 or 50THB. As a consolation for paying this fortune, you could take a dip on the beach for the rest of the day.
The Trail:
The resort was built many years ago during Rayong's heyday as a popular tourist spot for Bangkok dwellers during the 80's. Suan Wang Gaew resort is made up of clusters of huts and bungalows spread out on separate beaches on a hilly cape.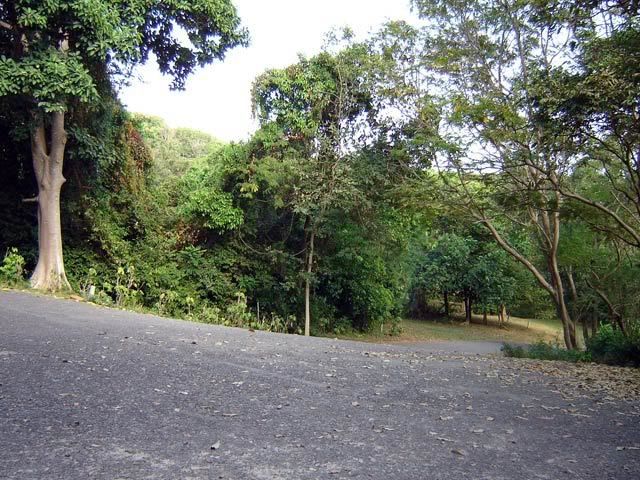 Connecting these bungalows is a criscrossing network of asphalt roads. The terrain is hilly and there are some upslopes which are quite steep. I had to resort to low gears just to crest some slopes but not that steep though that I had to call on my granny's help.
Riding is good. You could randomly pick any path and you will be greeted with a shady trail leading to a beachfront. Arrow signs thankfully in both Thai and english provide direction to the different beaches. Even the bungalows have name signs clearly spelled out and visibly seen.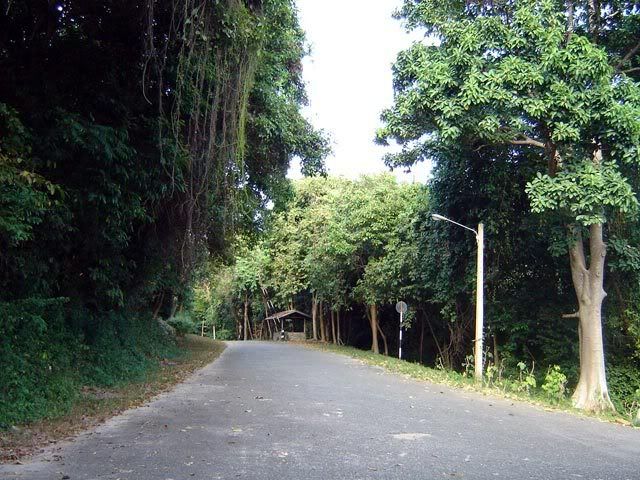 There are some paths leading to sections which are not visited frequently. The asphalt roads are already breaking apart on these areas, on some points disintegrated down to loose gravel. I liked riding through these sections as the path was virtually shaded in trees. Very cool and very isolated. Steep gradients add to the challenge. There are places where the seaview breaks through and you could just stop and take in the scenery. I was a bit wary of snakes though so I kept on moving about and did not stay at a spot for long.
Depending on which path you take, just randomly heading into the numerous twists and turns, a circuit could range from 3-5 kilometers. The nature of the place gives a great workout as the alternating climbs and downhills keep you interested. As soon as you see the next crest, you are already raring to climb it with the promise of a fast roll on the other side. The
breathtaking vistas
and the cool sea breeze can take away your fatigue and egg you to keep on pedalling.
On the way back to our bungalow after an hour of light workout, I spied a
small trailhead
intended for hiking. Peering through, an idea formed in my mind that my HT could go up the trail easily. So after a quick water break, I climbed up the trail.
The trail is
littered by trees and roots
. The roots were the size of my arms, and some even the size of my legs, criss-crossing the singletrack. The trail was so inviting though that I just climbed and lumbered through the trail. At numerous instance I had to dismount and push my bike over roots half a foot high, as I am not yet skilled enough to bunnyhop my way through.
After climbing and pushing for a couple of kilometers, I
crested the hill
and came upon a small clearing with a great view of the whole cove. Time for another water break. The trail continues on, this time going down the other side. After considering for a few minutes, I decided that the trail was too steep for me and my hardtail. My beloved HT looked flimsy compared to the challenge. Simply put, I chickened out. With nowhere to go, I had to backtrack.
On the way down though, i found to my surprise that this mean and gnarly technical trail was so much fun to ride on the way down. I got in a zone quickly, picking my way through the roots and swerving through the trees. I was always conscious though that on the right side of the trail is a steep nearly vertical drop. My derailleurs were geared on 1-6 setting all the way down as I still needed to pedal my bike over the huge tree roots.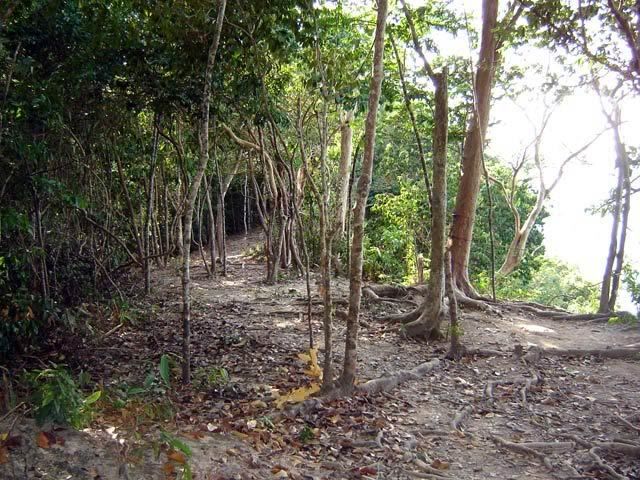 Just flowing with the trail, I kept my focus 3-5 meters ahead and resisted the urge to see where my front wheels are. Basics, basics, ... This got me going quickly and got my bike over roots easily. As soon as I look where my front wheel is at, immediately I lose my balance and get stuck.
Lesson learned: there is no use fighting this trail as you can easily get a bent wheel or mis-align your handlebars.
It was over before I knew it and I was hooked. I decided to give it another go, and for the rest of the 3-day family trip, I sneaked up this hiking trail a few more times.
Bike Setup:
Fat tires are the order of the day. Suggest nothing less than a 2.0 aspect. Or if you are using thinner ones, best to inflate in high pressure. The roots can easily mess your wheel if you are not careful.
Should be perfect for an FS bike.
Oh, by the way, bring some mosquito repellent. I stopped for a few minutes to take pictures and all the mosquitoes zeroed in on my location. There were so many I thought the mosquitoes were going to fly me away. Apply some repellent on your ears and nape, which should keep the buggers at arm's length.

Fitness Level:
No need to be A-one on this trail. My wife bikes occassionally and even she enjoyed riding through the hilly asphalt roads. She had to push her bicyle on a couple of high crests though.
Technicality:
Almost zero technicality on the asphalt roads. But this 'hidden' singletrack is a nice challenge. You need to be a bit advanced to climb and go down this strip.
Trip value:
It was supposed to be a normal family outing of cooking, swimming on the beach and drinking beer, but I brought along my bike anyway, not knowing that the resort could be a biker's summer haven. Trails are good and challenging, resthouse is clean and cozy, beach is smooth and clear. I am good, the wife is happy, my toddler son is happy. Worth a trip!
By the way, rental rates at the resort range from 1200THB to 6000THB depending on how big the place you intend to rent. There are choices from single room bungalows far away from the beach (cheapest) and 4-room airconditioned houses just on the edge of the waterline (most expensive). Tip: go there on weekdays as all prices are discounted 50%.

How to Get There:
Ride down 20+km out of Rayong on
Sukhumvit Rd3
. Just after the road leading to the famous Ban Phe, you will take a
right on Rd3192
. You will come across a major intersection with Rd3145. Take a
right at Rd3145
and proceed for about 5km. Suan Wang Gaew is beside the famous Hin Suay Nam Sai Resort Hotel.
[end]